The power of data
Our clients deal with data from various internal and external sources and platforms. To work in a data-driven manner and make informed decisions, all this data needs to be consolidated and analyzed. For this purpose, we harness the power of a central database, known as a Data Warehouse (DWH). The data within the DWH is considered universally valid, hence referred to as the Single Point of Truth (SPOT). Reporting and all subsequent data analyses at Sunlab are built on this foundation.
The convergence of multiple heterogeneous data sources within the DWH can be illustrated as follows: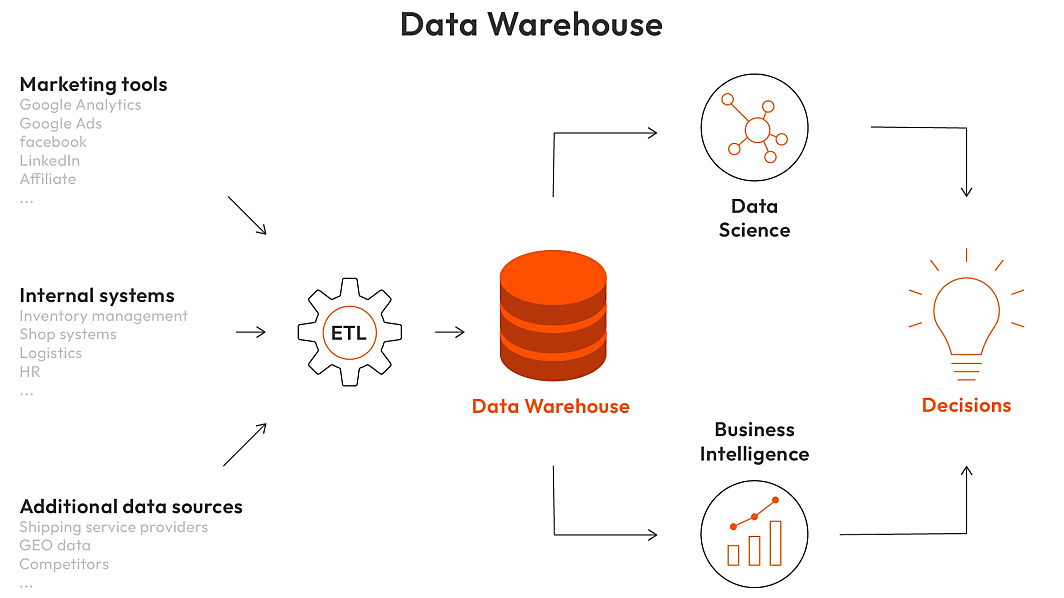 Our DWH approach
We assist our clients in establishing their own Cloud-based Data Warehouse. From planning and implementing the architecture to connecting and transforming data sources, all the way to data evaluation and provision, we bring our expertise to ensure optimal data utilization.
Our services
Planning and building the DWH infrastructure

Integrating Marketing data sources

Defining and implementing data preparation processes

Importing first-party data in collaboration with our in-house IT department

Creating reports based on the DWH as the SPOT

Providing processed data via API for internal systems
"In a data-driven competitive environment, our clients rely not only on a clear data strategy but also on a modern data warehouse. For our Sunlab clients, we develop the 'Single Source of Truth' solution to be well-prepared for any business situation."
Benjamin Keller
Chapter Lead Data & BI
Tools & technologies
Our focus lies on the Google Stack, specifically Google BigQuery as ourCloud Data Warehouse solution. In addition, we work with MS Azure and AWS. We also employ technologies such as funnel.io, Apache Airflow, Python, and SQL.